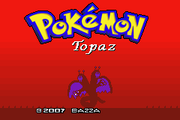 Pokemon Topaz
is a Ruby-based ROM hack created by Bazza. In the game, the character embarks on a journey through the Topaz region as a newly promoted Team Rocket executive.
The protagonist's goals are to assist Giovanni on his quest to extend Team Rocket's influence, steal all 8 of the Topaz region Gym Badges to become a more powerful criminal, and thwart the efforts of the bumbling police to wipe out Team Rocket's opposition.
The game contains some mild language that is stronger than that used in the official Pokemon series. It is not recommended for anyone under the age of 10. The patch required to play this ROM hack can be downloaded here.
Pokémon List
Edit
All of the Pokemon in the Hoenn Dex have been replaced with new Fakemon. A few are standard equivalents to the Pokemon they replace. However, there are many other Fakemon that have drastically changed typing and sprites, as well as learnsets and stats.
Complete Pokédex PDF.
List of Fakemon
Edit